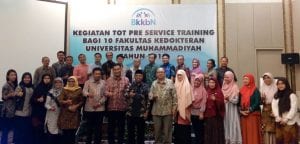 Center of Excellence Pusat Kesehatan Reproduksi FKKMK UGM bekerjasama dengan BKKBN telah sukses melaksanakan TOT Pre-Service Family Planning Training. Pelatihan pertama dilaksanakan pada tanggal 21-24 November 2016 yang di ikuti oleh 10 Fakultas Kedokteran di 10 Provinsi yaitu: Sumatera Selatan (FK Unsri), Lampung (FK Univ. Lampung), Jawa Tengah (FK Undip), Jawa Timur (Unbraw), Bali (FK Unud), Sumatera Barat (FK Univ. Andalas), Sulawesi Selatan (FK Unhas), DKI Jakarta (FK UI), Jawa Barat (FK Unpad), dan DIY (FK UII).
Pelatihan kedua dilaksanakan pada tanggal 19-22 November 2017 yang diikuti oleh 13 Fakultas Kedokteran di 6 Provinsi terpilih yaitu: DKI Jakarta (FK UPN Veteran, FK UIN Syarif Hidayatulah, FK Katolik Indonesia Atmajaya, FK Yarsi, FK UKI, FK Tarumanegara), Jawa Barat (FK Kristen Maranatha, FK Univ Ahmad Yani), Jawa Tengah (FK Univ Negeri Sebelas Maret, FK Unisulla), Jawa Timur (FK Unair), Jambi (FK Univ Jambi) dan Kalimantan Selatan (FK Univ Lambung Mangkurat).
Pelatihan ini dapat terwujud dengan adanya komitmen yang sangat kuat dari BKKBN untuk meningkatkan kompetensi setiap lulusan dokter dalam memberikan pelayanan KB yang berkualitas sehingga lulusan dokter telah siap memberikan layanan KB yang paripurna mulai dari konseling sampai tindakan pemasangan IUD dan Implan. BKKBN juga memberikan komitmen pendanaan terkait pelaksanaan Pre-Service Training di masing-masing Fakultas Kedokteran melalui Perwakilan BKKBN di Provinsi.
Di tahun 2018 kembali Center of Excellence Pusat Kesehatan Reproduksi FKKMK UGM bekerja sama dengan BKKBN mengadakan TOT Pre-Service Family Planning Training yang dilaksanakan pada tanggal 10-13 April 2018 yang dihadiri 9 Fakultas Kedokteran di lingkungan Muhammadiyah.
Acara yang diadakan di Hotel Grand Aston Yogyakarta ini dibuka oleh Ketua Pusat Kesehatan Reproduksi Prof. dr. Siswanto Agus Wilopo, SU, MSc, Sc.D dan Perwakilan BKKBN Pusat yang dalam hal ini diwakili oleh Direktur Bina Kesertaan KB Jalur Swasta. Prof. dr. Siswanto Agus Wilopo, SU, MSc, Sc.D menjelaskan sejarah layanan KB di Indonesi dan pentingnya pelayanan KB bagi mahasiswa kedokteran, mengingat di lapangan banyak mahasiswa kedokteran yang tidak percaya diri apabila menemui ibu yang ingin memasang implan atau IUD. Perwakilan BKKBN menekankan pentingnya pelatihan ini untuk meningkatkan kualitas dokter dan kualitas pelayanan keluarga berencana di Indonesia. BKKBN sendiri berkontribusi besar dalam program Keluarga Berencana di Indonesia, sehingga masalah pelatihan KB bagi mahasiswa kedokteran ini mendapat perhatian yang besar dari semua pihak.
Materi pelatihan ini mengacu kepada materi internasional mulai dari konseling, KB hormonal, implant, IUD, dengan berbagai penjelasan lengkap mengenai kegunaan, efek samping, tantangannya dan sebagainya.
Narasumber yang mengisi kegiatan ini antara lain: Dekan FKKMK UGM Prof Ova Emilia, M.Med. Ed, PhD., SpOG(K), Ketua Pusat Kesehatan Reproduksi FKKMK UGM Prof. dr. Siswanto Agus Wilopo, SU, MSc, Sc. D, dr. Muhammad Nurhadi Rahman, SpOG,  dr. Ilyas Angsar, SpOG (K), dr. Yudianto B, SpOG (K) ,dr. Julianto W, SpOG (K) ,dr. Muhammad Dwi Priangga, SpOG ,dr. Shinta P, SpOG (K), dr. Diannisa Ikarumi, SpOG, dr. Rathi M Fauziah, SpOG dan Rini, Amd. Sedangkan dari BKKBN Pusat diwakili oleh: drg. Widwiono, M.Kes dan dr. Nia Reviani, MAPS.
TOT ini diharapkan bisa bergabung dengan kurikulum dari Fakultas Kedokteran masing-masing. Berdasarkan pengalaman dari FKKMK UGM bahwa TOT ini dimasukkan dalam kegiatan modul mahasiswa saat sebelum lulus sebagai Sarjana Kedokteran, sebagai sebuah modul pilihan. Sayangnya dengan metode ini, tidak semua mahasiswa dapat mengikuti. Kemudian untuk acara prakteknya melebur bersama dengan kegiatan Bakti Sosial ke wilayah tertentu. Para mahasiswa mendapat supervisi langsung dari Dokter Spesialis Obgin sebagai pengarah dan pembimbing serta untuk mencegah adanya komplikasi lanjutan dari pemasangan IUD atau implan tersebut. Untuk memastikan apakah IUD telah terpasang dengan baik maka dilakukan pula pemeriksaan ultrasonografi pasca pemasangan. Testimoni nyata disampaikan oleh mahasiswa kedokteran FKKMK UGM yang saat itu telah lulus menjadi dokter. Bahwa pelatihan tersebut melatih para mahasiswa untuk percaya diri menghadapi klien pemasangan KB, terutama bagi dokter-dokter umum yang bertugas di Puskesmas.
Sementara pengalaman dari FK UII, TOT ini dilaksanakan pada saat mahasiswa mendekati mau kelulusan sebagai dokter. Seluruh materi diberikan selama beberapa hari dan prakteknya juga disupervisi oleh Dokter Spesialis Obgin dari UII maupun dari RS afiliasi. Dari FK Unsri saat itu mereka masih belum ada materi mengenai layanan KB ini sehingga perlu menyusun modulnya dari awal.
Salah satu tantangan pelatihan ini adalah rekrutmen klien yang bersedia untuk dipasang IUD dan Implan dikarenakan adanya syarat kompeten bagi mahasiwa untuk dapat memasang IUD atau Implan sebanyak 2-3 orang klien.
Masih banyak bahan diskusi yang telah dibicarakan selama pelatihan tersebut dan peserta nampak aktif memberikan pertanyaan maupun merespon suatu topik. Namun, pada intinya pelatihan TOT ini akan memberikan manfaat besar bagi pelayanan KB di Indonesia dimana saat ini jumlah penduduk Indonesia merupakan yang terbesar nomor 4 di dunia. Dengan meningkatnya ketrampilan para dokter umum di bidang KB, akan meningkat pula kesejahteraan ibu dan keluarga di suatu bangsa.