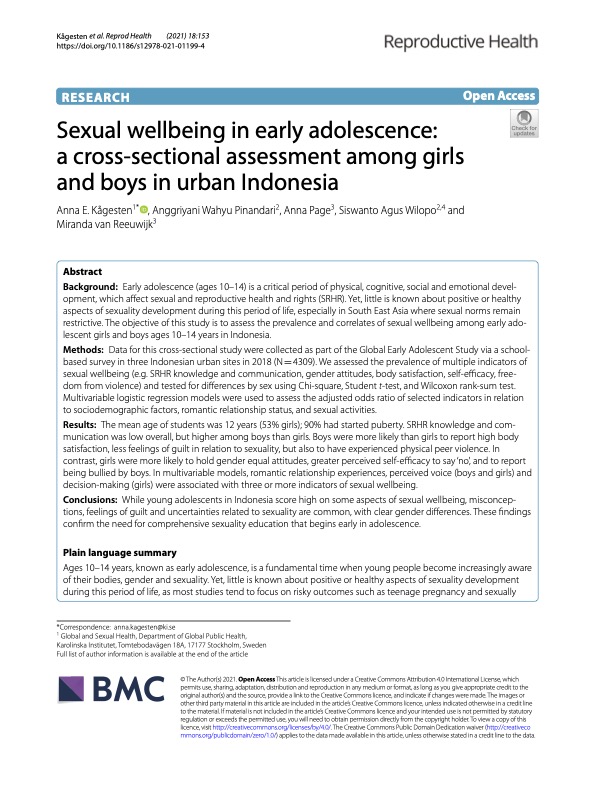 Anna E Kågesten, Anggriyani Wahyu Pinandari, Anna Page, Siswanto Agus Wilopo, Miranda van Reeuwijk
Sexual Wellbeing in Early Adolescence: A Cross-sectional Assessment Among Girls and Boys in Urban Indonesia
Background: Early adolescence (ages 10-14) is a critical period of physical, cognitive, social and emotional development, which affect sexual and reproductive health and rights. Yet, little is known about positive or healthy aspects of sexuality development during this period of life, especially in South East Asia where sexual norms remain restrictive. The objective of this study is to assess the prevalence and correlates of sexual wellbeing among early adolescent girls and boys ages in Indonesia. Methods: Data for this cross-sectional study were collected as part of the Global Early Adolescent Study via a school-based survey in three Indonesian urban sites in 2018 (N=4309). We assessed the prevalence of multiple indicators of sexual wellbeing (e.g. sexual and reproductive health knowledge and communication, gender attitudes, body satisfaction, self-efficacy, freedom from violence) and tested for differences by gender using Chi-square, Student t-test, and Wilcoxon rank-sum test. Multivariable logistic regression models were used to assess the adjusted odds ratio of selected indicators in relation to sociodemographic factors, romantic and sexual experiences.
Results: The mean age of students was 12 years (53% girls); 90% had started puberty. Sexual and reproductive health knowledge and communication was low overall, but higher among boys than girls. Boys were more likely than girls to report high body satisfaction, less feelings of sexual guilt, but also to experience physical peer violence. In contrast, girls were more likely to hold gender equal attitudes, greater self-efficacy to say no, and to report being bullied by boys. In multivariable models, romantic experiences, perceived voice (boys and girls) and decision-making (girls) were associated with three or more indicators of sexual wellbeing.
Conclusions: While young adolescents in Indonesia score high on some aspects of sexual wellbeing, misconceptions, feelings of guilt and uncertainties related to sexuality are common, with clear gender differences. These findings confirm the need for comprehensive sexuality education that begins early in adolescence.