Center for Reproductive Health 
CRH consists of interdisciplinary institution with research and educational effort focus on reproductive and sexual health, maternal and child health, and population changes. The focus on increasing health, growth, and development throughout life of Indonesian and global population, including mother and children, family, adolescent, female, parents and population with special care need.
Research and study activity includes some basic points as follows:
PMA 2020
This study was conducted to measure family planning indicator according to respondent socio-demographic, including place of residence (urban/rural), wealth quintile, age, parity and education in Indonesia periodically.
Landscaping Adolescent Reproductive Health
This study was conducted to collect comprehensive data as well as to initiate program and policy in National level regarding monitoring in adolescent reproductive health program.
International Comprehensive Family Planning Training
This training was conducted to provide updated knowledge and skills in giving family planning services and maintain quality of service in family planning services.
Local Partner Avenir Health for Track20
to provide technical and implementation support to Avenir Health staff, consultants and activities that contribute to undertake specific support tasks or functions, assume the lead role in carrying out selected project activities, and help build capacity to better utilize FP data for tracking program progress and making programmatic decisions.
Clinical Trials
General objectives for this study was to know efficacy, safety, and acceptance of contraception containing Lynesterol (Nexton®) compared to innovator (Exluton®) for breastfeeding women in Indonesia.
Training & Seminar
Center for Reproductive Health Faculty of Medicine UGM provide opportunity for researchers, practitioner, academic or students in health related fields to update their knowledge in family planning, reproductive health, population health, mother and child health as well as training/workshop in biostatistics and paper writing through data analysis workshop, visualization and scientific paper writing and through statistical software training.
The CRH supports international programs in the Strategic Millennium Development Goals (SDGs) focusing on reproductive health issues, maternal and child health issues and deaths, as well as the prevention and treatment of HIV / AIDS.
Keluarga Berencana dan Kesehatan Reproduksi tidak melulu hak asasi insan yang mendasar, tetapi berkontribusi besar dalam penambahan kesejahteraan keluarga, masyarakat dan bangsa. Indonesia mendapat guna dari program Keluarga Berencana yang dilakukan oleh pemerintah semenjak awal tahun 1970-an. Jumlah rata-rata anak ...
Center of Excellence Pusat Kesehatan Reproduksi FKKMK UGM bekerjasama dengan BKKBN telah sukses melaksanakan TOT Pre-Service Family Planning Training. Pelatihan pertama dilaksanakan pada tanggal 21-24 November 2016 yang di ikuti oleh 10 Fakultas Kedokteran di 10 Provinsi yaitu: Sumatera ...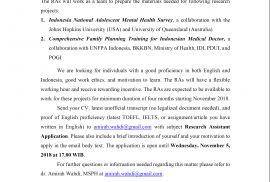 ANNOUNCEMENT Indonesia National Adolescent Mental Health Survey, a collaboration with the Johns Hopkins University (USA) and University of Queensland (Australia) Comprehensive Family Planning Training for Indonesian Medical Doctor, a collaboration with UNFPA Indonesia, BKKBN, Ministry of Health, IDI, PDUI, ...
Early Life Nutrition "The importance of Early Life Nutrition to Support Long Term Health" Ball Room Hotel Grand Hyatt Yogyakarta Hari : Sabtu, 29 September 2012 Waktu : 08.00 - 13.30  WIB Kontribusi Peserta : 50.000,- Fasilitas : Seminar Kit ...
Tema: Upaya-upaya Percepatan Pencapaian Target MDGs ke 5 (Maternal Health) di Tingkat Kabupaten Pembahas: Dinas Kesehatan Kabupaten Purworejo Dinas Kesehatan Kabupaten Sleman Hari: Kamis, 13 Oktober 2011 Jam:  12.00-13.30 WIB Tempat: R. Sidang Utama Lt. 3 KPTU FK UGM FREE ...
Kuliah Umum – Vaccines Against Enteric and Respiratory Diseases oleh: Paul E. Kilgore Free untuk Mahasiswa S2/S3 dan Umum Hari : Senin, 18 Juli 2011 Waktu : 13.00 – 15.00 WIB Tempat : Ruang Theater Perpustakaan FK UGM Pendaftaran: Sekretariat ...