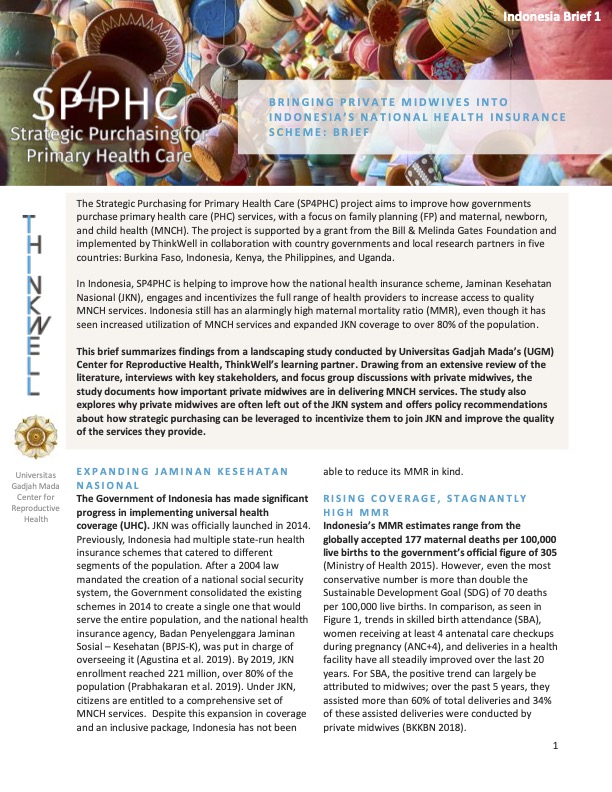 Siswanto Agus Wilopo, Rosalia Kurniawati Harisaputra, Anggriyani Wahyu Pinandari, Althaf Setyawan, Yufan Putri
Bringing Private Midwives into Indonesia's National Health Insurance Scheme: Brief
The Strategic Purchasing for Primary Health Care (SP4PHC) project aims to improve how governments purchase primary health care (PHC) services, with a focus on family planning (FP) and maternal, newborn, and child health (MNCH). The project is supported by a grant from the Bill & Melinda Gates Foundation and implemented by ThinkWell in collaboration with country governments and local research partners in five countries: Burkina Faso, Indonesia, Kenya, the Philippines, and Uganda.
In Indonesia, SP4PHC is helping to improve how the national health insurance scheme, Jaminan Kesehatan Nasional (JKN), engages and incentivizes the full range of health providers to increase access to quality MNCH services. Indonesia still has an alarmingly high maternal mortality ratio (MMR), even though it has seen increased utilization of MNCH services and expanded JKN coverage to over 80% of the population.
This brief summarizes findings from a landscaping study conducted by Universitas Gadjah Mada's (UGM) Center for Reproductive Health, ThinkWell's learning partner. Drawing from an extensive review of the literature, interviews with key stakeholders, and focus group discussions with private midwives, the study documents how important private midwives are in delivering MNCH services. The study also explores why private midwives are often left out of the JKN system and offers policy recommendations about how strategic purchasing can be leveraged to incentivize them to join JKN and improve the quality of the services they provide.